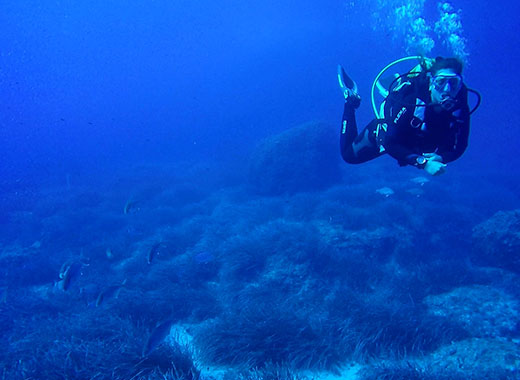 Look out into the deep blue from the incredible drop off!
Slipway is a favourite spot for both our staff and customers, loved for its incredible visibility of up to 50m on extremely clear days, dramatic rocky topography and huge variety of fish-life.
You'll begin the dive at our easiest entrance into the water, a gentle concrete slope with a backwards entry into 2m of water. The channel you enter in slowly reaches 5m, then down to 8m before a large freefall drop off down to exactly 18m. For this reason, it's a perfect site for Open Water Diver training, although it's not essential to reach 18m as an amazing shelf full of marine life sits at between 6-10m, making it perfect for absolute beginners too!
If you follow the wall round and swim over the huge boulders, you'll reach the amazing drop off where you'll be met by huge schools of Damselfish. You can also spot Wrasses, Amberjacks (in the later parts of the season), Moray Eels, Nudibranchs, a number of Octopuses and Bream (which like to follow and play with the divers)!
The site is loved for its many beautiful swim throughs under and in between large boulders.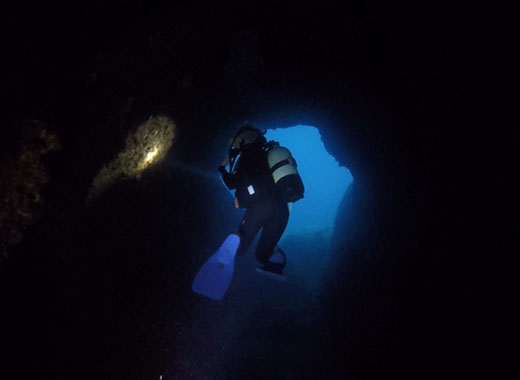 The top place to experience the geological past of the island!
Grand Canyons is a breath-taking dive site, where the many swim throughs and bubble areas are evidence of a lava flow hundreds of years ago! It's the place to go if you want to see impressive caverns and explore the incredible labyrinth.
The whole dive is exciting from start to finish. You'll begin by walking down over the rocky entrance where you'll reach the cliff edge, ready to jump into the fantastic sinkhole.
Once you're in, a calm swim following the cliff will lead you to the mouth of the marvellous cavern, which you can head inside to explore. In the cavern, you'll swim through the fresh/salt water mix to reach the letterbox where you'll be able to exit out into the open water.
As if this isn't incredible enough, follow the cliff further and you'll enter the underwater labyrinth of channels (reaching a maximum depth of around 20m), that twist and turn through the reef, all open and well-lit from above. You never go through the underwater labyrinth the same way twice! If air allows, there is a second cavern at the other side of the dive site. It has a large opening and its walls are covered with colour and life, illuminated by a second opening.
On the dive, you're likely to see Damselfish, Wrasse, Dreamfish, Moray Eels, Nudibranchs and Barracudas! Grand Canyons really is a must see and is an amazing place for photo opportunities!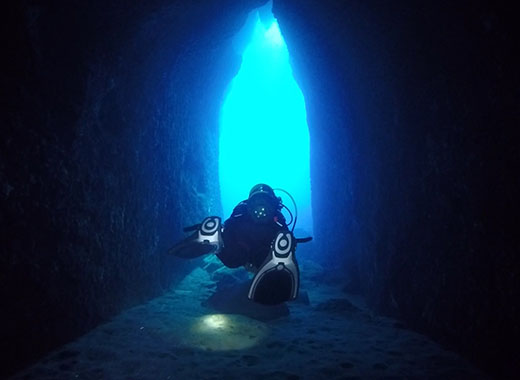 Known for its picturesque cavern and links to Roman history!
Church Door is an unforgettable site, perfect for divers wanting to check out the cavern and it also provides a great opportunity for experienced divers who may want to explore deeper (down to 26m).
Using the same entry point as Slipway, you'll make your way around the wall where you'll follow a huge cliff-face around to the brilliant Church Door cavern.
The cavern is aptly named after its' entrance emulates that of the door of a church. You'll have plenty of time swimming into the darkness of the cavern with your torch where you can explore and see if you can spot Shrimps, Conger Eels, Brittle Stars, Sea Cucumbers, Scorpion Fish, and plenty of Cardinal Fish!
When exiting the cave, you can descend to 26m where you'll find large Roman amphora scattering the bottom. This is an incredible step (or swim) back in time! Out in these depths you can sometimes see Amberjacks, Barracuda, and even Tuna!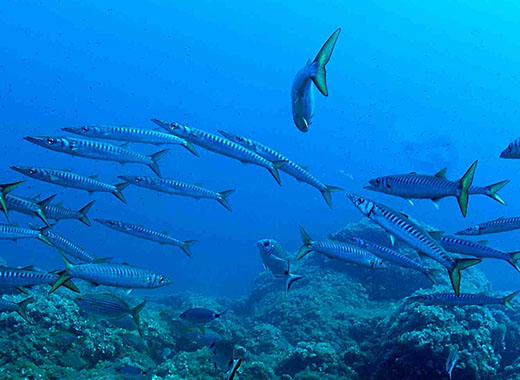 Enjoy the ride through the fascinating tunnel!
Tunnel Vision is a fantastic dive site boasting a beautiful tunnel which opens out into crystal clear water. It's a great site for trainee Advanced Open Water Divers to complete the deep dive of their course and is perfect for experienced divers seeking picturesque scenery.
To get to the dive site, there's a short walk to the entry point and a very flat rock to get in and out of the water on. You'll swim towards the cliffside and enter straight into the tunnel, beginning at 4m and finishing at 10m. There's plenty to see inside the tunnel and you'll work your way around all the exciting curves and bends where you can surface in a small pocket of air and marvel before heading further in and out the other side!
The exit of the cave opens out into an immensely clear area with huge amounts of Damselfishes, Bream, Barracudas, and Amberjacks later in the season. When you explore over the huge boulders, you can find Flabellina, Hervia, and even Giant Doris Nudibranches, Octopuses a plenty, Moray Eels, Grouper, Lobsters, and Hermit Crabs.
On the way back there are two options, the tunnel has another route which will take you back towards the shore where you can often find more Conger Eels inside, or alternatively, you can swim along the outside wall, which is often a site for more Barracudas and Amberjacks and a great place to look for Octopuses!
The majority of the dive is shallow, however you can delve deeper if you wish to explore more!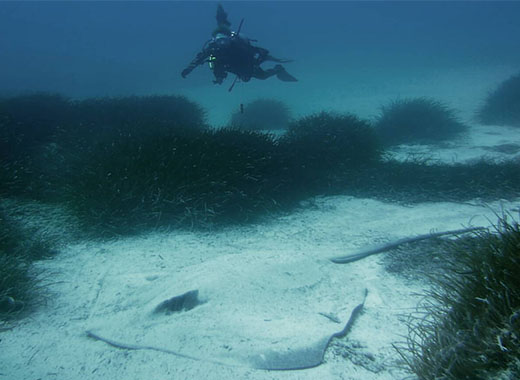 Our top site for spotting Stingrays!
Son Xoriguer is an amazing dive site offering a combination of open, sandy bays and an exciting swim through. It's one of our favourite sites for both experienced and beginner divers hoping to see lots of interesting marine life and also those wishing to explore the waters on a night dive!
The dive begins with an easy entry from a slipway into shallow water (1-2m). You'll start by swimming over smooth rocks where you'll immediately spot various types of Breams, Damselfish, Gobys and Blennys. As you continue, you'll find yourself over a large sandy bay (4-5m), where you'll swim alongside Cuttlefish, Octopus and the many Common Stingrays who come here to breed between May and July!
The further you explore (11m), you'll begin to spot some of the amazing larger fish such as Groupers, Barracudas (at the start of the season) and Amber Jacks (towards the end of the season) and you'll even find some awesome swim throughs which are home to many a Starfish and Moray Eels too!
As you head back towards the beautiful bay, you can explore some of the many little hideaways within the rocks, before climbing out over the natural steps.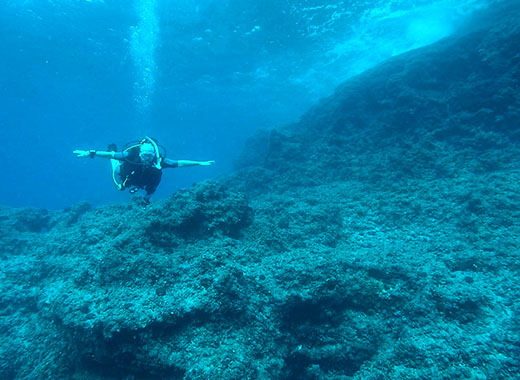 The perfect dive to see a variety of fish!
Es Clot de sa Cera is a calm site, great for younger divers wanting a taste of the underwater world or more experienced divers after a more relaxed dive.
You can start the dive from one of the many giant stride entry points ranging from "a little nervous" to "incredibly brave" in height. Alternatively there are steps that take you straight into the water for a much calmer way in.
At the beginning of the dive you'll swim over a shallow sandy patch, perfect for beginners to get used to their equipment and great for more experienced divers to have a go at spotting Flounders and Octopuses!
Once you make our way around the wall, you'll find a number of impressive swim-throughs and very often find plenty of Octopuses, Moray Eels, and Nudibranchs along the rocks. Out in the distance you can see Barracudas, Amberjacks, and plenty of Bream and Damselfish.
After following the wall for about 20 minutes you'll come across a huge pinnacle which sticks out of the surface of the water, this is usually the point we make our turn back.
The deepest point of the dive is 12m, a nice chilled out dive with plenty to see. A favourite spot for customers and staff alike!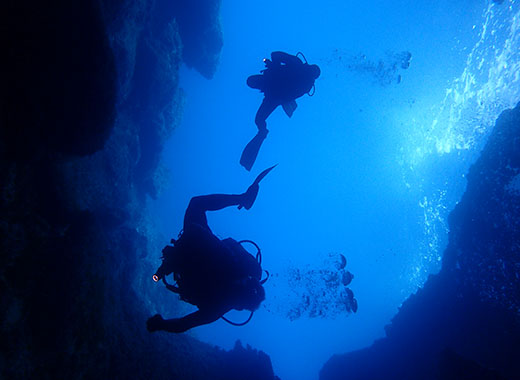 Exactly what it says on the tin!
Swiss Cheese is a breath-taking site filled with different sized holes and swim through opportunities. It's a little further away than some other sites so is usually part of a double dive. It's located on the North of the island, taking about 50 minutes to reach, but definitely worth the journey!
You'll begin with a walk down the rocks where you can get straight into the water. The dive starts shallow with a swim out of the bay at about 5m in depth and after a short swim, you'll reach the pinnacle, a very large rock filled with holes to explore. The entrance to the main chamber is located at around 14m, at this point you'll need a torch as you discover the many narrow tunnels. Swim around the corner and you'll reach a large opening full of light pouring in from all directions – a truly beautiful sight! The bottom point reaches about 22m and there are plenty of directions to go. More advanced divers can usually exit the chamber on the far side, head down to 28m and look for Stingrays on the floor. Following the sand will take you to a beautiful reef with even more swim throughs and plenty of life including Moray Eels, Octopuses and Scorpionfish. Another route is to spiral around the outside of the large pinnacle to take in the huge variety of fish from Damselfish, Bream, Wrasses, and Dreamfish.
This is a favourite dive amongst staff and customers and one that makes many divers want to return.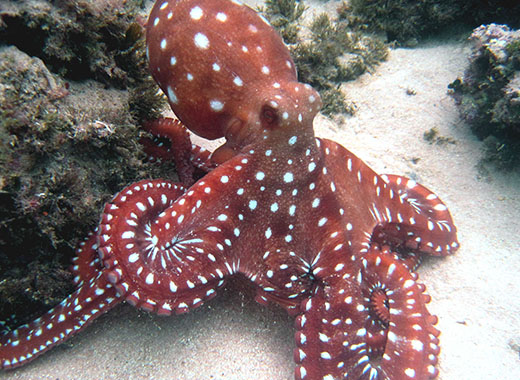 Home to an abundance of friendly Octopuses!
The Cala Blanca Bay dive site is off a beautiful sandy beach with clear, turquoise waters, offering a perfect place for divers to practise skills and explore the enticing walls of the bay.
You start by walking down a few steps to reach the platform where there is a short (2m) jump into the water (you can access via the beach too if you prefer)! The dive site is perfect for beginners and experienced divers alike. Beginners can practice skills on the large sandy bottom whilst training for their PADI course and experienced divers can go further out the cove following either side of the rugged walls.
As you follow the walls, you'll be able to spot flying gurnards, Moray Eels, Amber Jacks and you may even see some baby stingrays, who come to visit in August! Along the way you'll find a number of swim-throughs and overhangs, home to many Starfish and lots of familiar Octopuses.
Cala Blanca is wonderful for finding a constant changing variety of aquatic life, both in the daytime and at night.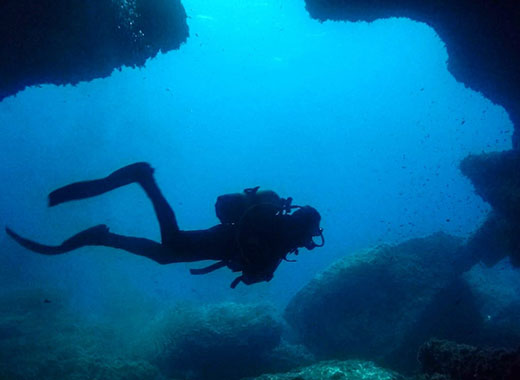 Jump on in and explore beneath the surface!
Lighthouse is a popular site amongst our many regular divers, well-known for its exhilarating jump into the turquoise water and the amazing reef covered wall full of sea life.
There's a bit of a walk down to the water where you'll need to carry your equipment, but we promise once you get down there, you won't be disappointed! The platform is several metres above the water, so it's fins and mask on, regulator in, BCD inflated and you take a nice big jump forward down into the warm water waiting for you.
The beginning of the dive sees several large boulders and plenty of small rocks (7m), which makes it a great starting point to explore around looking for Octopus and Moray Eels.
Once you head out further you'll find yourself immersed in sea grass. A little drop-off appears not too far into the sea grass where you'll follow a rocky reef covered wall round to reveal gigantic boulders (12-15m). Some of the fish here range from Bream, Wrasse, Meagre and Damselfish to Amber Jacks, Groupers, Barracudas and Scorpion fish. As we head deeper (18m) there are a number of sandy patches with little rock homes for Octopuses and you can find many rocks that you can swim through before turning around.
On the way back, swim slightly higher to swim over or around the boulders and explore the cavern and many swim throughs, where you'll find many Cardinal fish hiding in the dark and maybe even some small Scorpion fish.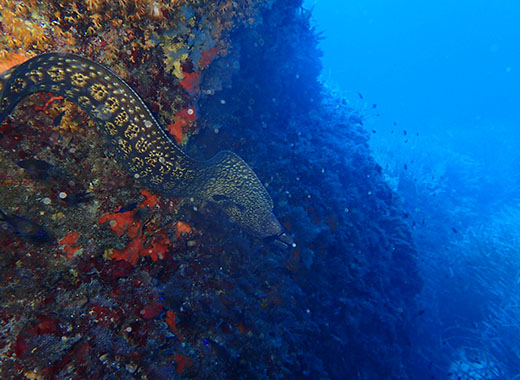 Swim alongside the flying fish!
Cala Morell is an incredibly beautiful bay on the North Coast of the island. It hosts a variety of brightly coloured coral with a wall that is bursting with life!
Although it's an amazing dive site, it's just as exciting out of the water as the journey down to the bay will take you past a man-made cave system dating back to prehistoric times!
After walking down a number of steps and rolling off the platform into the warm water, you'll begin your dive on a shallow sandy bottom, a great place for practicing skills on courses and try dives, and great if you haven't dived in a while. You'll then follow the wall and head out of the bay. Along the way you can usually find Octopuses, Cuttlefish, Bream, Flounders, Moray Eels, and even Flying Fish!
On the journey out you'll come across four small caverns at depths between 10m to 18m. If air allows, you can follow the wall further around to find a dramatic cliff face teeming with life and colour!
Schedule
Monday to Sunday from 8:30 am to 6:00 pm